Best Budget Paper Shredder 2020-2021-Buyer's Guide & Reviews
Best Paper Shredder for 2020-2021 Reviews
Best Paper Shredder 2020-A paper shredder is an excellent way to destroy sensitive documents, old paperwork, unwanted magazines and any other type of paper waste that's been accumulating in your office. They're also a great way to destroy old credit cards.Check out our best commercial paper shredder 2020 list.
We also reviewed On Best laptop, Best Camera, 3d printing pen, Best Speaker, Best Tablet Etc.
There are several kinds of papers you'll want to shred. Obviously, you'll want to shred old credit cards and documents that contain personal information. This is critical for personal security and is the primary reason most families buy a paper shredder along with a wireless printer.Read Also:Under 300 paper shredder
Jump To:
Best Paper Shredder Under $50

If all you need is a standard, run-of-the mill paper shredder, AmazonBasics is what you're looking for. It doesn't cut too quickly and it can't run for very long, but its perfectly suited for home or light office use.

This cross-cut shredder can tackle six pages at a time and is also capable of cutting credit cards, albeit only one at a time. It shreds paper down to a dimension of 7/32 by 1-27/32 inches. It can shred papers measuring up to 8.7 inches, and it has a 3.8 gallon bin. The shredder is backed by a one-year warranty provided by Amazon.
While the shredder is perfectly adequate, it is only suitable for home or small office use. It can only run for two minutes, and it takes a full half hour to overheat. If you have to shred a lot of documents, it's not going to get done in two minutes with the size of this shredder, and the half hour down time is unacceptable.
If you take the shredder for what it is, however, it is perfectly capable, and it is reasonably priced for any household.
Best Paper Shredder Under $100
The Swingline Paper Shredder offers a few more options for those who wish to be thorough in the destruction of sensitive papers. It's quite a bit more expensive than the AmazonBasics 6-Sheet, but it is far more capable and versatile.

The head of the shredder has a modern, streamlined design with two shredding slots. It is optimized to shred up to 14 sheets of paper at a time, and is capable of shredding most junk mail whole, unopened or not. This is perfect for families or businesses that see a never-ending stream of offers they aren't interested in.
As for the separate cutter, that is especially designed to shred CDs and DVDs, protecting the main cutter and prolonging the life of the machine. This is a great way to dispense of unwanted CDs or to destroy sensitive files that may be contained on the discs.
The shredder has a five-gallon bin with a clear plastic glass that easily lets you see how much space is left. When it is full, the bin pulls out from the machine, making disposal of waste easy and hassle-free. It also has a reverse feature to clear out the shredder in case of jams.
With a run time of 20 minutes, this shredder blows AmazonBasics out of the park. Even better, it has a light indicator that lets you know when it is time to cool down, so you don't have to watch the clock. This is an excellent and affordable shredder for those with a moderate budget.
A couple steps above the AmazonBasics 6-sheet shredder, the 12-Sheet Shredder from AmazonBasics works twice as fast, saving you a lot of precious time. However, in most ways it is not on the same level as the Swingline, which is ultimately the better shredder.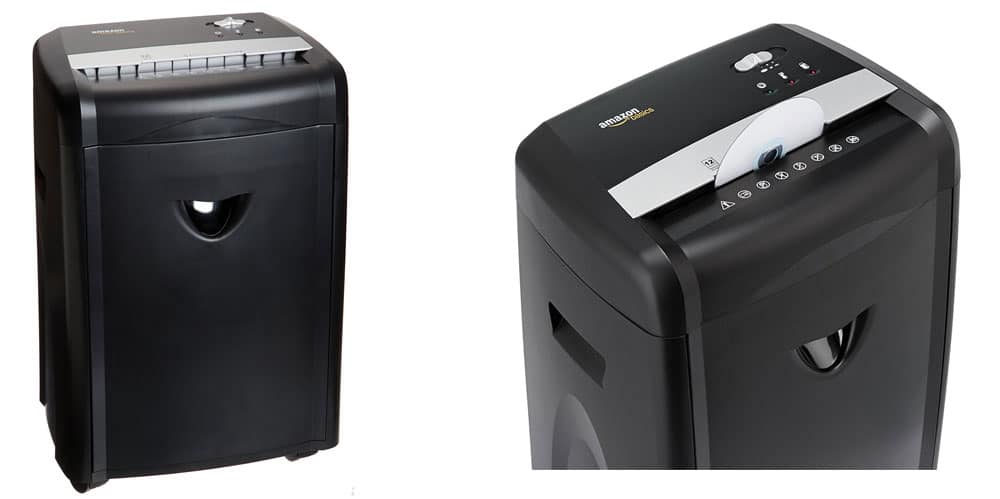 Like the Swingline, the 12-Sheet AmazonBasics is capable of shredding papers, credit cards, CDs and more. It can shred up to 12 sheets at a time, which is respectable. It also comes with a 6.7 gallon pullout wastebasket, providing more storage space with easy disposal.
In other aspects, this shredder falls short, however. The biggest pitfall is the lack of runtime and the lengthy cool-down period. Although it comes with an auto-shutoff feature to prevent overheating, it can only run for 8 minutes at a time, and requires a significant 45-minute cool-down before it is ready to go again. It also lacks a separate slot for CDs and DVDs, providing additional wear and tear.
The 12-Sheet Amazon Basics is powerful enough to shred six feet of paper per minute, but its short runtime and extended cool-down period prevent this from being a truly excellent model.
Best Paper Shredders Under $150
If you have to shred large amounts of documents on a regular basis, you need something that can run for a while. That something is the Bonsaii EverShred. With up to 30 minutes of continuous shredding, you'll work through your piles of paperwork in a single sitting.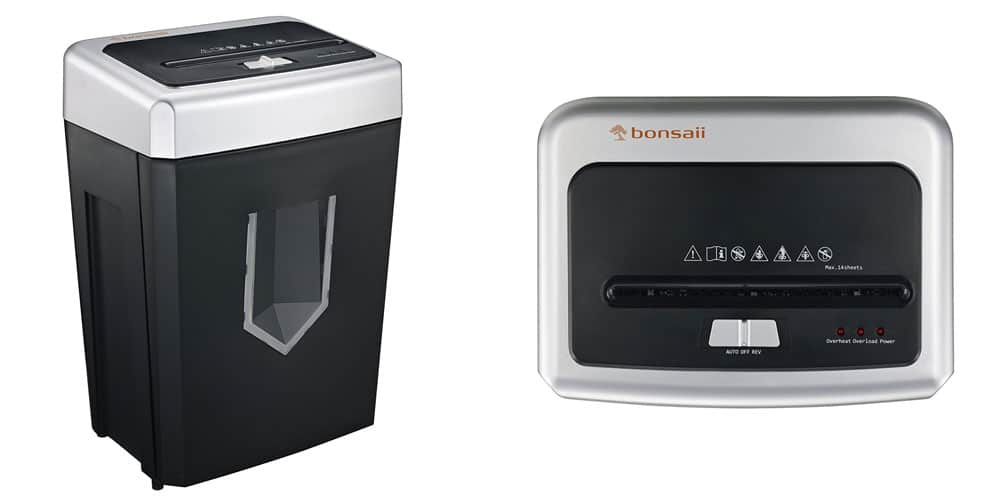 Like the Swingline, the Bonsaii EverShred can tackle 14 sheets of paper at a time, and it shreds them down to a manageable 5 x 40 millimeters in size. It is designed with a jam protection system that auto reverses when jams are detected, minimizing frustrating and time-consuming jams.
The 30-minute runtime is impressive, but even better is the cool-down. It takes just ten minutes before the EverShred is ready to go again, so if you're not able to shred everything you need in a single sitting, you won't have to wait long.
The only real problem with the shredder is its smaller storage bin. 4.5 gallons isn't terrible, but it is smaller than both of the previous shredders on this list. Still, it is a minor issue, and doesn't detract from the quality of this shredder.
Best Paper Shredders Under $200
This is one paper shredder where the name says it all. The Fellowes Powershred does a splendid job living up to its name. Not only can it shred paper, but also staples, credit cards, paper clips, CDs and, DVDs, junk mail – if you can name it, Powershred can destroy it.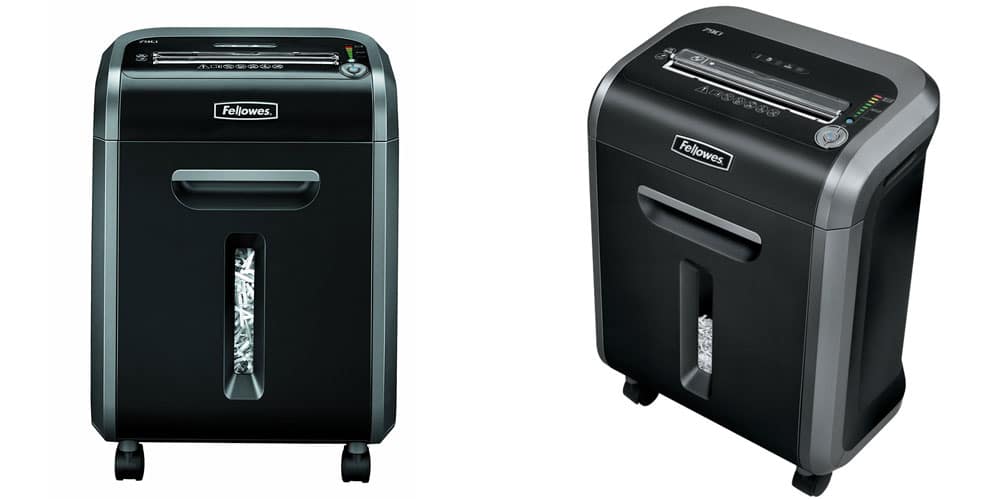 One of the big selling points of the Powershred is its claim to be 100% jam-proof, and in my experience it did a fine job living up to that promise. I wouldn't count on it not jamming if you tried to overload it, but using it properly it can power through any shredding situation.
The Powershred runs for up to 20 minutes, with a 30 minute cool-down afterwards. I think 30 minutes is a bit long, but it's understandable considering the amount of power being used. 20 minutes is a good length of time to run, so I'm not too upset.
What I don't like is the pull-out bin. Although it's six-gallon size is adequate, it is not the best design. It's messy, spilling paper shreds every time I remove it, and I have to struggle to put it back in the shredder.
The slot itself is amazing, and the Powershred doesn't short you on power, but it's poor bin design keeps it from getting a perfect grade.
If you've ever had to shred thousands of documents in a single night, you know how time-consuming the process can be, especially if you have to deal with lengthy cool-down periods. The Royal 1840MX is an excellent choice to get through long shredding sessions.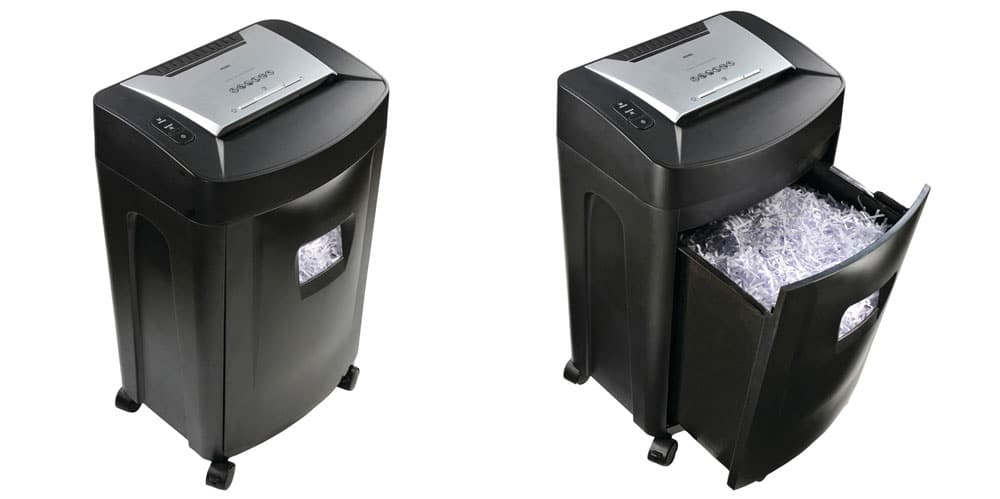 It's large slot is capable of handling up to 18 sheets of paper at once, and its runtime of 40 minutes is nothing short of superb. It can shred papers, CDs and credit cards, and it can shred paper in a mere five seconds. Its large 8 ½ gallon wastebasket accommodates its long run time, minimizing your trips to the recycling bin.
One of the best features of the shredder is its warranty. A paper shredder is only good for as long as it works, and Royal backs their shredders with a five-year cutter blade and motor warranty, guaranteeing years of shredding. The 1840MX is not cheap, and represents a moderately significant investment, but that warranty goes a long way to ensuring peace of mind and guaranteeing a quality product.
Best Paper Shredder Under $250

Unlike most paper shredders, the Aurora JamFree 20-Sheet Paper Shredder is mounted on wheels, making it easier to move it about the room or take it to the recycling bin. With the capacity to shred up to 20 documents simultaneously, Aurora is a great way to speed up your work.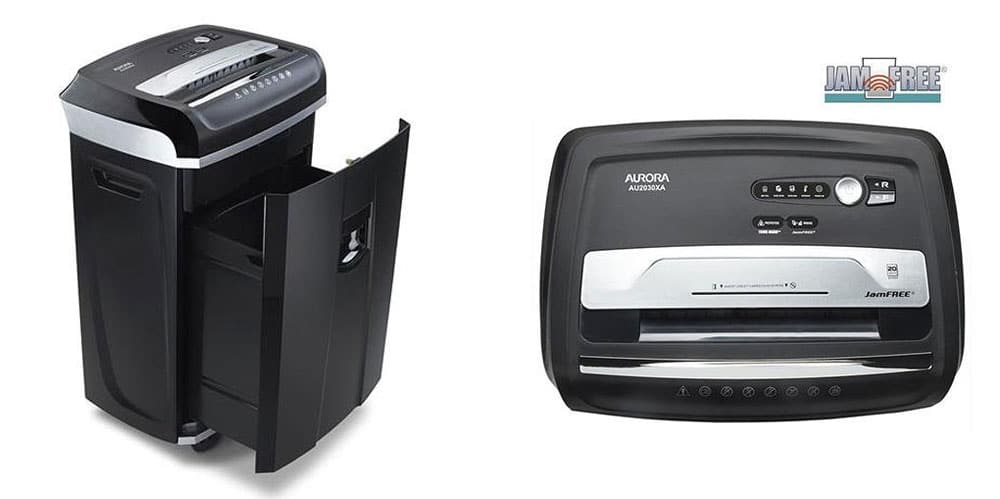 As the name indicates, the AU2030XA is designed to eliminate paper jams. Its sensors automatically detect if it is operating over capacity and it will not run, preventing you from making a time-wasting error.
The AU2030XA has a seven gallon wastebasket and can run continuously for up to an hour, and will automatically shut off if not used for five minutes. Unfortunately, the shredder also requires a cool-down of 50 minutes, limiting the effectiveness of its one-hour runtime.
This shredder works quickly and effectively, and it has a smart design that prevents jams. However, you'll want to weigh the length of its running time with the length of its cool-down period before you commit to buy it.
It might just be me, but paper shredders have some of the most inspiring names. The EverShred, the Powershred. And now, the HSM Shredstar. They are all very effective names from a marketing standpoint, but they're also quite descriptive of these shredders' effectiveness.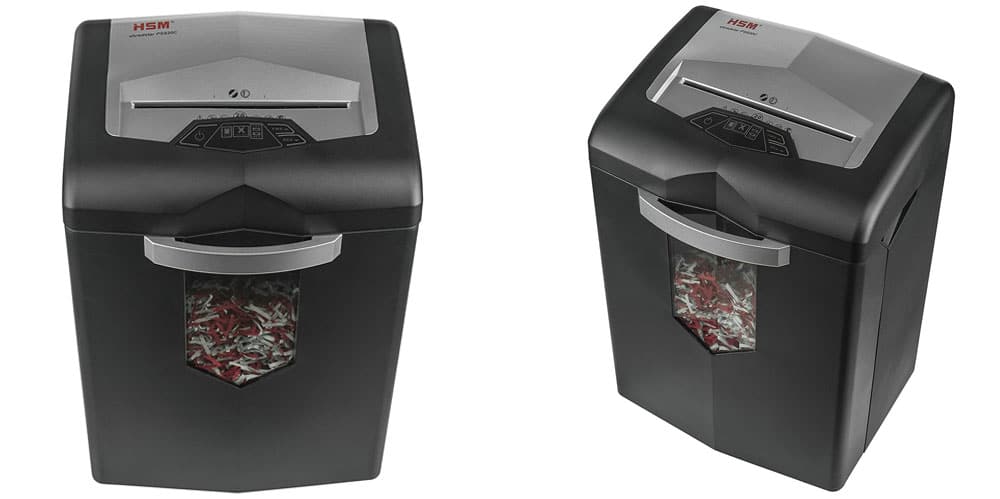 The HSM Shredstar, for example, can shred up to 158 sheets of paper every minute, reducing every single page into 430 cross-cut strips. It's a model of power, cutting through not only paper but staples, paper clips, credit cards, CDs and DVDs,with a separate cutting unit for CDs and DVDs. It has a 7.1 gallon wastebasket for less frequent emptying.
You can also depend on the Shredstar for a long time, as HSM offers a lifetime warranty on the cutting cylinder. Anti-jamming technology also prevents the machine to run when overloading, protecting the machinery and eliminating jams. The Shredstar is mounted on wheels, making it easier to move about the office as well.
What's really amazing about the Shredstar is that it is designed for continuous operation with no down time, allowing you to shred constantly for hours at a time. Although I suspect you'd have to let it cool off eventually, it has a built-in fan which keeps the heat down, and I never ran into problems with it overheating.
The Shredstar is not a cheap shredder, but it has enough features to make it well worth the cost.
Best Paper Shredder Under $300
The Bonsaii EverShred Pro 4S30 may only shred 10 papers at a time, but it has something else working in its favor: 240 minutes of operating time. This puts it right on par with the Shredstar for impressive continuous operation.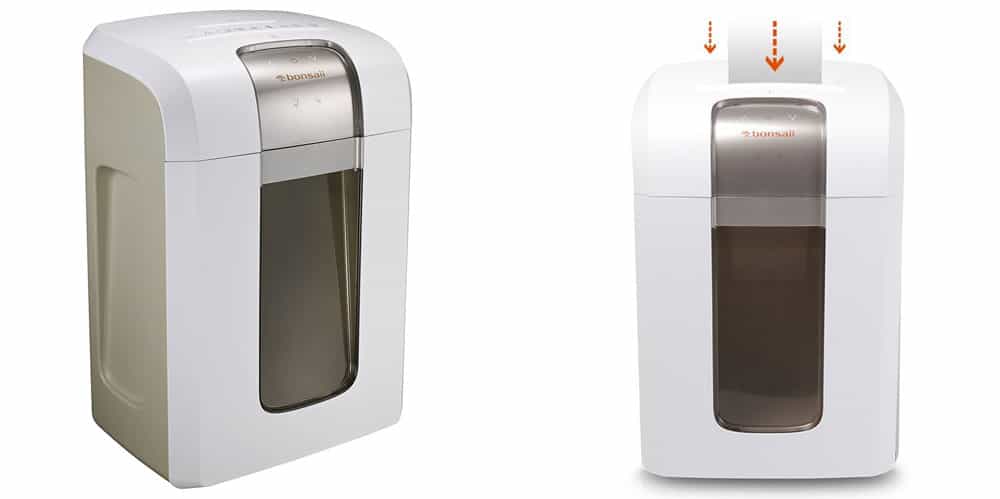 It also shreds documents into very fine particles, measuring a mere 2 x 10 millimeters – a tenth the size of the shreds made by the EverShred C169-B. It is able to shred paper, credit cards, CDs and DVDs, paper clips and staple, and it can shred 7.2 feet of documents every minute.
Auto start and auto reverse features work to prevent jamming, and a large 7.9 gallon wastebasket offers plenty of room for your paper waste; there is also a separate 0.37 gallon bin for your CDs and DVDs, which cannot be recycled.
The EverShred Pro 4S30 may not be able to shred as many documents at a time as some other shredders, but its 240 minutes of runtime provide reason enough to seriously consider this shredder.
Best Paper Shredders Under $450
As far as paper shredders go, the Fellowes Powershred 125Ci is one of the most expensive – and powerful – shredders on the market. Like the other Powershred model, it is designed to power through tough jobs without jamming, with auto-detection sensors that prevent it from running over capacity.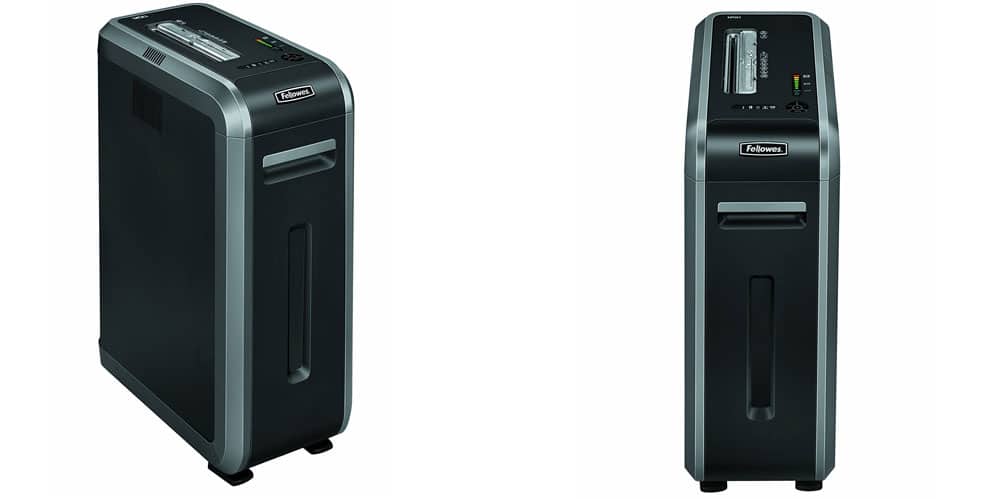 Where the Powershred 125Ci stands out is its ability to tackle up to 20 papers at a time and its extra-large 14-gallon wastebasket, allowing you to go longer between emptying than most shredders, saving a significant amount of time in its own right. It even comes with an LED indicator letting you know when it's ready to be emptied.
The Powershred is backed by a two-year warranty which, while not industry-leading, is significant in its own right. With its continuous-run design that eliminates the need for constant cool-down periods, this is an ideal shredder for medical facilities that have to shred hundreds or thousands of papers and documents a day.
Best Paper Shredders Under $800
There was a time not long ago when I wouldn't have believed an $800 paper shredder existed. Then I have the opportunity to product test the ideal 2465 Continuous Operation Shredder. While I'm not convinced that it's powerful enough to justify its price tag, it is an incredibly efficient machine, capable of shredding 324 pages per minute.

While the ideal 2465 can only shred 9 to 11 documents at a time, it does so at tremendous speed. Even better, it is designed for continuous operation and doesn't require cooling periods during reasonable use. When you couple the fast shredding capabilities and its runtime, you could conceivable shred 15,000 or more papers in a single hour.
This is an expensive shredder to be sure, and smaller offices and companies will probably not need something of its size, caliber and price. But for hospitals or companies that deal with thousands of shredded documents every day, the time saved by using ideal may be worth the price after all.
Find the Best Paper Shredder In 2019-2020
How do you choose the best shredder for you? Buying a document shredder sounds like a fairly easy task, but there is quite some things to keep in mind. That's why we recommend to read our buying guide thoroughly so you know what to take into consideration when selecting your paper shredder. In the guide below we inform you all about it.
What to look for when getting a paper shredder?
It is important to understand the performance, features and specifications of a paper shredder before buying it. This avoids later disappointments. You don't want to end up with a shredder that needs to cool down after 2 minutes of shredding and can't handle more than three sheets of paper per feed when you need to shred regularly at your office with multiple colleagues. To prevent you from buying the wrong shredder we've made this paper shredder buying guide.
Things to Consider to buy paper shredders
In this age of identity theft, throwing away or recycling intact documents with personal names, addresses, bank information, social security numbers or any other type of personal information could lead to identity theft.
In this age of identity theft, throwing away or recycling intact documents with personal names, addresses, bank information, social security numbers or any other type of personal information could lead to identity theft.
Business owners have additional motivations for buying a paper shredder. Regulations from both the Fair and Accurate Credit Transactions and the Health Insurance Portability and Accountability Act require all employers to destroy any documents containing employee's Social Security numbers, employment history, credit information, current or prior addresses and more.
Employees and businesses, be they a bank or a roofing contractor, who fail to adhere to federal privacy laws can face legal consequences, up to and including a $500,000 fine!
While you can hire a professional agency to destroy these documents for you, those services can cost several hundred dollars a year or more. Even spending several hundred dollars on a paper shredder will save you thousands in the long run. When it comes to protecting your identity and avoiding legal consequences, a few hundred dollars is a very reasonable price to pay.
Things to Consider paper shredders

Unlike some purchases, buying a paper shredder is a simple endeavor. There aren't a lot of factors to weigh. The only things you really need to consider are how well and efficiently any given model can carry out its basic functions.
1. Number of Sheets
Paper shredders are measured by the number of sheets they can shred at any single time. The higher the number, the more expensive the shredder is, but also the more quickly it can get a job done. If you frequently have to shred hundreds of papers at a time, it may be worth investing in a high-count shredder.
2. Jamming
Most paper shredders come with a certain risk of jamming. Cheaper models are more likely to jam than others, and jams are easier to clear in some models than others as well. Some very high-end shredders come with guarantees against paper jams.
3. Credit cards
Since credit cards are not made out of paper, some shredders, especially cheaper ones, may have difficulty shredding them or cannot do so at all. Companies that may have to shred old cards, such as banks and credit unions, will want to make sure this feature is available.
4. Volume
Just how much paper can you shred before you have to empty your shredder and start over? This ties in with how many papers you can shred at a time as well. Any company that shreds a high volume of papers will want a moderately sized shredder.
5. Type of Cut
Most paper shredders use a cross-cut method to shred documents, but other cutting methods exist, including micro cuts. Most people probably aren't too concerned with how their shredder works, but some methods of shredding are more likely to jam than others.
Editor's Pick
Although we can't predict the shredding needs for everyone, we feel that the Fellowes Powershred 125Ci is the best shredder for the money. It offers fast performance, a long runtime and a large wastebasket, eliminating constant trips to the recycling bin.
Type of shredders:
strip-cut, cross-cut and micro-cut
Not all paper shredders produce the same cut. That's why paper shredders are categorized in three types to differentiate them from each other:
Strip-cut or Ribbon-cut or Spaghetti-cut or Straight-cut
Cross-cut or Confetti-cut or Diamond-cut
Micro-cut or Particle-cut or Security-cut
We recommend a cross-cut or micro-cut shredder to shred confidential documents. That is security level DIN P-3 or higher.
Strip-cut shredder
A strip-cut shredder is a basic paper shredder for shredding non-confidential documents. It shreds paper vertically in long narrow strips that are fairly readable.
Low level of security
For shredding non-sensitive documents
Long narrow vertical paper strips, like spaghetti
Cuts only vertically
Approximately 39 strips per shredded document (size: A4)
Security level: DIN P-1, DIN P-2
Cross-cut shredder
A cross-cut shredder is a paper shredder for shredding confidential documents. It shreds paper diagonally from both corners in short particles that are barely readable.
Medium level of security
For shredding sensitive documents
Short and narrow paper shreds
Cuts diagonally from both corners
Approximately 400 particles per shredded document (size: A4)
Security level: DIN P-3, DIN P-4
Micro-cut shredder
A micro-cut shredder is an advanced paper shredder for shredding highly confidential documents. It shreds paper diagonally from both corners in square shaped particles that are almost unreadable.
High level of security
For shredding highly sensitive documents
Tiny square shaped paper shreds
Cuts diagonally from both corners
Approximately 3,700 particles per shredded document (size: A4)
Security level: DIN P-5 or higher
How much security do you need? It all depends on the type of documents you want to shred and how important the information is to you or your business. For most situations a DIN P-3, DIN P-4 or DIN P-5 shredder is a good option to safely dispose papers and documents.
Back to top
---
DIN 66399 security levels
When you look at the specifications of a paper shredder you often see the security level with a DIN classification next to it. For example: DIN P-1, or DIN P-3. But what does it mean? The DIN P-level is part of DIN 66399 (since 2012) which is the international standard for secure shredding of data media developed by the Deutsches Institut für Normung (DIN) which translates to the German Institute for Standardization.
DIN 66399 (before DIN 32757) classifies the security levels for six media categories. Such as hard drives (H), optical media (O) and paper based products (P). For paper there are seven security levels. The levels range from DIN P-1 to DIN P-7. The higher the DIN level the smaller the paper particles become after shredding a document, see more here.
The seven security levels are divided in thee protection classes. Some security levels overlap two protection classes:
Protection class 1
Normal security for internal data
Security level: DIN P-1, DIN P-2, DIN P-3
Protection class 2
High security for confidential data
Security level: DIN P-3, DIN P-4, DIN P-5
Protection class 3
Very high protection for confidential and secret data
Security level: DIN P-4, DIN P-5, DIN P-6, DIN P-7
For most shredding needs we recommend a paper shredder that falls in protection class 2 with a DIN P-3, DIN P-4 or DIN P-5 security level. These shredders suffice most requirements for secure shredding of confidential documents.
---
Type and number of users
Do you occasionally want to shred a document at home? Or are you a heavy-user and want to shred a pile of confidential documents every day at the office? How many people are going to use the paper shredder? Or do you want a personal shredder that you can place under your desk? These are some question you should ask to consider what type of shredder you need.
To find the right shredder these devices are often categorized in the following categories:
The categories contain shredders that are filtered for the requirements below. You can read more about these specifications further on this guide.
Sheet capacity
Run time and cool down time
Bin capacity

1 USER
---
Suitable for
Personal / Home use
---
Run time
1-5 minutes
---
Sheet capacity
1-10 sheets
---
Bin capacity
1-9 gallons
---

1-5 USERS
---
Suitable for
Home office / Small office
---
Run time
5-10 minutes
---
Sheet capacity
10-30 sheets
---
Bin capacity
10-29 gallons
---

5+ USERS
---
Suitable for
Commercial / Large office
---
Run time
30 minutes or more
---
Sheet capacity
20 sheets or more
---
Bin capacity
30 gallons or more
---
Back to top
---
Sheet capacity
The sheet capacity tells you how many sheets of paper you can feed in the shredder. A basic shredder can shred 1 to 3 documents at once. But a more heavy-duty shredders can eat up 20 sheets of paper per pass. A higher sheet capacity results in faster shredding and less work.
On average a manual feed paper shredder that is suitable for small (home) offices can shred between 10-20 sheets of A4 paper per pass.
Are you looking for a shredder with a high sheet capacity? Then consider an auto feed shredder that can shred a large pile of documents in one session.
Back to top
---
Run time and cool down time
Generally people don't realize this, but most paper shredders have a maximum run time and a cool down time. Also known as 'duty cycle'. In other words, you can use the shredder for a certain amount of time before the motor needs to cool down.
So how long can you shred your documents uninterruptedly. It depends on the type of shredder, the quality of the shredder and the security level. Most household shredders can shred between 5-10 minutes continuously before a cool down period is needed. Professional shredders for offices can run for up to 30 minutes. But there are also commercial shredders available that can run continuously without stopping to cool down, these are the real heavy-duty ones..
The duration of the cool down time depends on the shredder, but it can take 30 minutes on average before the shredder is ready for the next shredding session.
A higher DIN security level tends to have a negative impact on the run time. For instance, a DIN P-5 shredder needs to cool down more often than a DIN P-2 shredder that is in the same class, because a DIN P-5 shredder produces smaller particles. This requires more power from the engine, which causes it to overheat more quickly.
Back to top
---
Bin or bucket capacity
Most paper shredders come with a bin or storage drum to collect the paper particles. Some cheap shredders only contain the shredding part which you need to place on top of a paper recycle bin, but we leave these type of shredders out of consideration.
Does the capacity matter much? Yes, because a large capacity means less time is wasted emptying the bin. A large bin capacity is definitely recommended when you want to shred daily or you use the shredder with multiple users, for instance on your office department.
Please note that the DIN security level has a big impact on how quickly the storage bin fills up. A DIN P-2 shredder, that shreds in long strips, will fill up a bin much faster than a DIN P-5 shredder that generates tiny particles which takes up less volume in the bin.
---
Type of bin or container
A paper shredder can have two types of bins. A bottom bin with lift-off head or a removable bin.
The bottom bin with lift-off head is a basic variant where the shredder is placed on top of the bin. When you want to empty the bin you need to remove the shredder part, the head. Most household shredders or cheaper shredders are manufactured in this way. It is workable, but not the most convenient. Especially when you want to shred a larger pile of documents it gets annoying to remove the top every time. It also can make a mess when you accidentally tip over your shredder when it is full of shredded paper.
The more advanced and larger shredders are equipped with a pull-out bin or removable bucket. The bin collects all the paper particles and once the bin is full you open the door or pull-out the bin to empty it. This is a more professional, clean and convenient way than the variant with the shredder on top of the bin.
---
Calculate the speed of a shredder
So how fast or productive is a shredder? To calculate the speed of a paper shredder you need to know these specifications (formula by Fellowes):
Sheet Capacity – amount of paper a shredder can shred at one time
Feet per Minute (FPM) – how quickly the shredder can shred paper
Run Time – the time the shredder can continuously run before cooling down
Multiply the numbers from each specification and you get a shredder performance rating.
Sheet Capacity x Speed (FPM) x Run Time = Shredder Score

An example:
You consider either the Fellowes Powershred 73Ci or the Fellowes Powershred 99Ci and you want to know which one works more efficiently.
Fellowes Powershred 73Ci
Sheet capacity: 12 sheets
Feet per minute: 10
Run time: 10 minutes
Score: 12 x 10 x 10 = 1,200
Fellowes Powershred 99Ci
Sheet capacity: 18 sheets
Feet per minute: 30
Run time: 25 minutes
Score: 18 x 30 x 25 = 13,500
Conclusion: The Fellowes Powershred 99Ci is much more efficient than the 73Ci. Because the 99Ci is much faster and can run for a longer period of time.
Back to top
---
What do you want to shred?
Paper documents, of course. But some shredders can handle more than paper alone. Such as:
Staples
Paperclips
Loyalty cards
ID cards
Credit cards
CDs
DVDs
Most basic shredders can handle some staples. But if you want to go heavy-duty on staples and paperclips be sure that the shredder can really take care of it without you damaging the blades. Look for the instruction manual or check the specifications on the website of the manufacturer.
More powerful shredders can also shred plastic cards, such as credit cards. These shredders may have a dedicated slot to shred cards. But others just let you shred the cards in the same slot you feed your confidential papers in. For recycling it is important to find out if the shredder comes with a separate container to catch the plastic parts. Otherwise the plastic particles are getting mixed up with the paper shreds.
Shredders with a CD functionality can also shred CDs and DVDs into tiny particles. The shredder can have a dedicated CD slot to shred the optical media. Or the paper shredder lets you shred it in the main paper shredding feed. Same as with the cards, it is important for recycling that the particles are collected separately so it won't pollute your shredded paper.
Back to top
---
Manual feed or auto feed shredder
Paper shredders are divided in two variants, manual feed and auto feed shredders.
Manual feed paper shredder
Just like the name implies, a manual feed shredder needs to be fed manually by hand. Depending on the sheet capacity you grab a few sheets of paper and shred it. You grab another pile of paper and shred it, and so on. For shredding a small pile of documents this is fine, but if you need to shred thousands of documents, this might not be very convenient and efficient.
Auto feed shredder
To save time and speed up the process of shredding paper an automatic paper shredder is recommended. This shredder has an auto feed functionality which means it shreds a large pile of paper all by its own. So, how does it work? An auto feed shredder has an input tray that is quite similar as that of an office printer or copier. You fill up the tray with your documents and press start, the shredder takes care of the rest. The amount of paper you can shred per session depends on the shredder. Some auto feed shredders can hold 100 sheets of A4 documents, but others can hold 500+ sheets.
Back to top
---
Important safety features
A paper shredder isn't a toy because it contains a set of sharp cutting blades. We advise to always be very careful when operating a paper shredder and don't leave a working shredder unattended. Especially when there are kids or pets around. Always unplug the shredder when not using it and place it out of sight in a secure and safe place. For your safety and that from others you might consider a paper shredder that comes with special safety features that prevents possible injuries. These safety features are recommended for personal home users and professional office users.
Safety lock – Lock the shredder even when it is plugged in.
Safety sensor – Electronic touch sensors around the paper entry that detects when hands or fingers touch the opening. The shredder immediately shuts off.
---
Paper jam prevention
An annoying occurrence of paper shredders is the 'paper jam'. The paper shredder stops working because the motor can't process the amount of paper.
A paper jam can occur because of:
Exceeding the prescribed maximum sheet capacity.
Inserting the wrong material, such as cardboard or thick paper.
Slanted input of a stack of paper which results in a paper folding jam.
Bad maintenance of the shredder and lack of oil
How do you solve a paper jam? Stop the shredder and press the reverse button, the cutting blades will turn in the opposite direction so the paper gets rolled out of the shredder. Straighten the documents a bit and retry to shred it.
If you want to minimize the chance of a paper jam you can look for a paper shredder with special 'anti paper jam' technology. These shredders are equipped with an extra powerful engine which pulls the paper through during a paper jam. The jam-proof shredders also prevent a paper jam with a sensor which detects when you want to shred too many sheets of paper at once.
Back to top
---
Shredder maintenance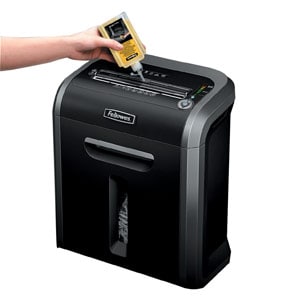 A new shredder fresh out of the box works very smoothly. To keep it this way you need to perform some maintenance every once in a while. You can achieve this by oiling the cutting blades.
For oiling a shredder you need official shredder oil that is manufactured by the brand of your shredder. The oil ensures the cutting blades run smoothly and you keep the blades sharp for a longer period of time. Oil comes in small bottles or pre-oiled sheets.
Keep your shredder in top condition
When do you need to oil your shredder? We recommend to oil the blades every time when the bin of the shredder is full. Or after an intensive shredding session. Please refer to the manual for instructions on how to oil your shredder.
Some shredders come with an 'auto-oil functionality'. These shredders take care of the oiling process all by itself. The only thing you need to do is making sure there is enough oil.
Back to top
---
Noise level
On average, paper shredders produce around 65 decibels while shredding. This is comparable with the sound of washing machine. Especially in office environments a noisy and loud paper shredder (around 75 dB) can be a nuisance for your colleagues. So it is advised to look for a paper shredder that shred silently and quiet. Some shredders are specially manufactured to produce as little noise as possible. For instance Fellowes calls this 'Silent Shred Performance'. To reduce the nuisance as much as possible you can consider placing the shredder in a closed of area, such as a storage space or the archive area in your office.
We've experienced in our tests that the more cheap and basic shredders produce more noise with a high pitched frequency. The more professional office shredders can be a bit loud too, but they lack the high pitched noise that we find quite annoying and unpleasant to listen to while shredding documents.
Paper shredder noise levels:
Silent: less than 60 dB
Normal: 60 to 70 dB
Loud: 70 dB or more
Of course, if you want to pick up a personal paper shredder for home use, it is up to you how much noise you can withstand.

Jump To:
We also reviewed On Best laptop, Best Camera, 3d printing pen, Best Speaker, Best Tablet Etc.
Also Read: